Introducing VESCA
The app for vegans and vegetarians that supports both shoppers and society,
July 04, 2020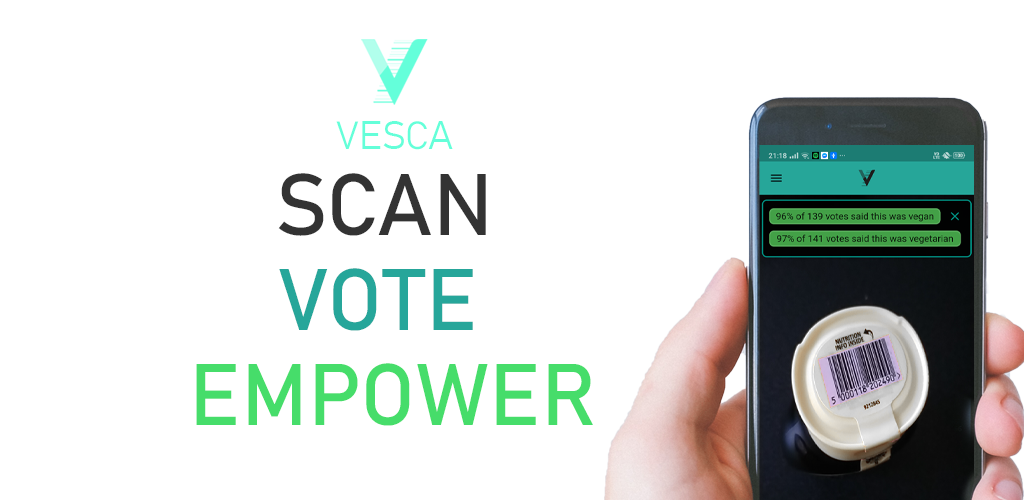 You're just in the middle of your weekly food shop a new item on catches your eye, perhaps it's a new type of cheese product that will enhance or add the final flourish to some of your recipes. But as you're about to add it to your basket, you find yourself struggling to identify whether it suits your dietary needs. There may no visible vegan labels, you don't recognise an item on the allergen info, or maybe you just want that second opinion and reassurance as to whether a product is all that it advertised to be. After trailing around the store to locate a member of staff, you find out the product isn't suitable and want to make sure others don't make the same mistake.
In steps Vesca, which at the touch of a button allows users to acquire the info and reassurance they need before making a purchase. You're probably wondering how this app differs from another other vegan barcode scanner that currently offers similar features, but Vesca offers some distinct advantages. Firstly, it allows the people themselves to vote on whether a product is vegan, or vegetarian based on their own experience. These opinions are then broken down as a percentage of those who feel the product is vegan/vegetarian and those who don't, which is then displayed users when they scan a product in future. Who better to turn to for information than trustworthy and likeminded people, who share similar values and product interests to you?
In addition to empowering people to help each other make informed purchases, at Vesca we feel just as strongly about empowering society. Because of this, we are currently working on implementing our 'You Vote, We Donate' system where we provide a monthly donation to a chosen charity based on the total of votes submitted on the app in this period. The more you use the app, the more we give, simple.
As a small team that has been working hard on the development of this app, we are super excited to make it available for download on the Android and Apple app stores! We are driven to keep on making improvements and responding to your feedback, so make sure you download Vesca to scan, vote and help others by helping yourself!